COUPONS
Auto Repair Coupons, Rebates & Offers


Check our coupons page and follow our tips below to help you save money on the cost of car repairs and maintenance.
Schedule a regular oil change at Chuck's Auto Repair in Canton. It is the key to easy car maintenance and eliminating expensive engine repairs down the road.
Pay attention to the "service light" warnings on your dashboard. Responding quickly to a service light is often easy and affordable but ignoring a service light can greatly increase the cost of future car repairs.
Get to know your owner's manual. It is time well spent. The owner's manual contains valuable tips for keeping the cost of car maintenance and service affordable.
Discuss the details of needed auto repairs with your mechanic.
Call Chuck's Auto Repair in Canton at 770-224-8323 for Coupons, Rebates, and Offers and keep your auto repair costs low!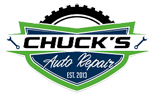 Brake Repair
Brakes
The receptionist was able to give me a very reasonably priced quote on the cost of brake repairs after a quick and friendly phone consultation. I was able to get my car in and out on the same day for brake repairs on the front and rear(speedy service). Overall, this is a great auto repair shop. I am glad I chose them for my brake repairs.
Christopher
, 12/17/2019