Jasper Auto Repair
Chuck's Auto Repair offers auto repair and maintenance services to Jasper, GA
In 2013, we began providing our customers in Jasper, GA with professional auto repair and maintenance services. Our well-trained team of professionals is extremely knowledgeable about all different makes and models of vehicles and the repair and maintenance required to get your car in tip-top shape. We believe that it is important that our Jasper customers understand what repairs we are suggesting and why. At Chuck's Auto Repair, it is important to us that when you drive away you feel confident in your car or truck.
No one wants to put their car or truck in the shop, but if you must, come to Chuck's Auto Repair where we put integrity and service first. Call 770-224-8323 to schedule an appointment today.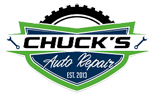 A/C Repair
Canton, GA
I had come into town, and had an A/C problem, having an Audi, it's hard to come by qualified people to work on it. These guys did a great job, and definitely knew the ins and outs of the car. After diagnosing the problem, they fixed the A/C quickly, and I even had them do a last minute synthetic oil change, which was performed quick as well. The staff was courteous and very knowledgeable, and got me on my way, good as new. Thanks again, Chucks crew!
Anthony C.