Thank You
You have been added to our email list, and you will automatically receive our next mailing when it comes out.

We appreciate your business, and we value your trust.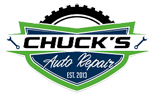 A/C Repair
Canton, GA
I had come into town, and had an A/C problem, having an Audi, it's hard to come by qualified people to work on it. These guys did a great job, and definitely knew the ins and outs of the car. After diagnosing the problem, they fixed the A/C quickly, and I even had them do a last minute synthetic oil change, which was performed quick as well. The staff was courteous and very knowledgeable, and got me on my way, good as new. Thanks again, Chucks crew!
Anthony C.