Tire Alignment and Tire Rotation Services
Correctly aligned tires will reduce tire wear and ensure that your vehicle travels without "pulling" to one side or the other. Let Chuck's Auto Repair's certified tire specialists rotate and align your car's tires during your next routine maintenance service. Our technicians use state of the art equipment to thoroughly examine your vehicle's tires for uneven wear, cracking, or slow leaks.

Avoid uneven tire wear and extend the life of your tires with a fast and affordable tire alignment at Chuck's Auto Repair in Canton. Call us today at 770-224-8323 and schedule an appointment.

Our alignment services:
Alignment
Wheel alignment (or simply alignment) is standard car maintenance that involves adjusting the angles of the wheels so that they are set to the manufacturer's specifications. The main purpose is to let the suspension and the steering systems operate at their desired angles - this reduces tire wear. Alignment is a complicated process and not all mechanics get it right. To have experts handle your car's alignment, visit Chuck's Auto Repair.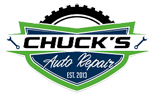 Brake Repair
Brakes
The receptionist was able to give me a very reasonably priced quote on the cost of brake repairs after a quick and friendly phone consultation. I was able to get my car in and out on the same day for brake repairs on the front and rear(speedy service). Overall, this is a great auto repair shop. I am glad I chose them for my brake repairs.
Christopher
, 12/17/2019