INSPECTIONS & EMISSIONS
Some states require regular safety inspections and/or emissions inspections on cars and trucks. At Chuck's Auto Repair, we are well-equipped and trained to perform these inspections. Our technicians can also perform multi-point inspections on your vehicles as needed.
These are some of the inspection services we offer.
GA State Certified Emissions Repair Facility
A state certified emissions repair facility is a privately owned motor vehicle repair facility, licensed to repair emission-related failures. The repair facility must employ a CERT (Certified Emissions Repair Technician) who has passed a state-required training program. Chuck's Auto Repair is a GA state certified emissions repair facility. Contact us at 770-224-8323 or visit us today for emission-related repairs and services.
To learn more about our Inspection and Emission services, call us at 770-224-8323 or request a quote by clicking below:
Request Quote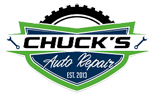 Brake Repair
Brakes
The receptionist was able to give me a very reasonably priced quote on the cost of brake repairs after a quick and friendly phone consultation. I was able to get my car in and out on the same day for brake repairs on the front and rear(speedy service). Overall, this is a great auto repair shop. I am glad I chose them for my brake repairs.
Christopher
, 12/17/2019